There are a couple ways to capture a still image at a specific time in a video.
Take a screenshot of the video, using your computer's screenshotting tool
Use a special tool to capture a still from the video
The non-ideal way
The first way is to use your computer's inbuilt screenshot tool. Pause the video at the time you want to capture a still and take a screenshot. Easily done but there are problems with this approach:
Not easy to get a high resolution image. The image resolution is limited by the size of the video player application.
When you screenshot the video, you will also end up screenshotting unwanted visual elements on the video, such as the video player controls.
It's difficult to finely control the time at which to take the screenshot.
A better way to grab a still image from a video
To avoid the above problems, Klip has a tool right for the job. The tool is available at https://outklip.com/capturestill . The tool does a better job than a screenshot tool in the following ways:
Produces image resolution as good as the video
Captures a pure version of the video frame without unwanted visual elements
You can specify a millisecond accurate time in the video for the capture
With these features you can get a more accurate and higher quality still image of the video.
How to use the tool
Here's how the tool looks.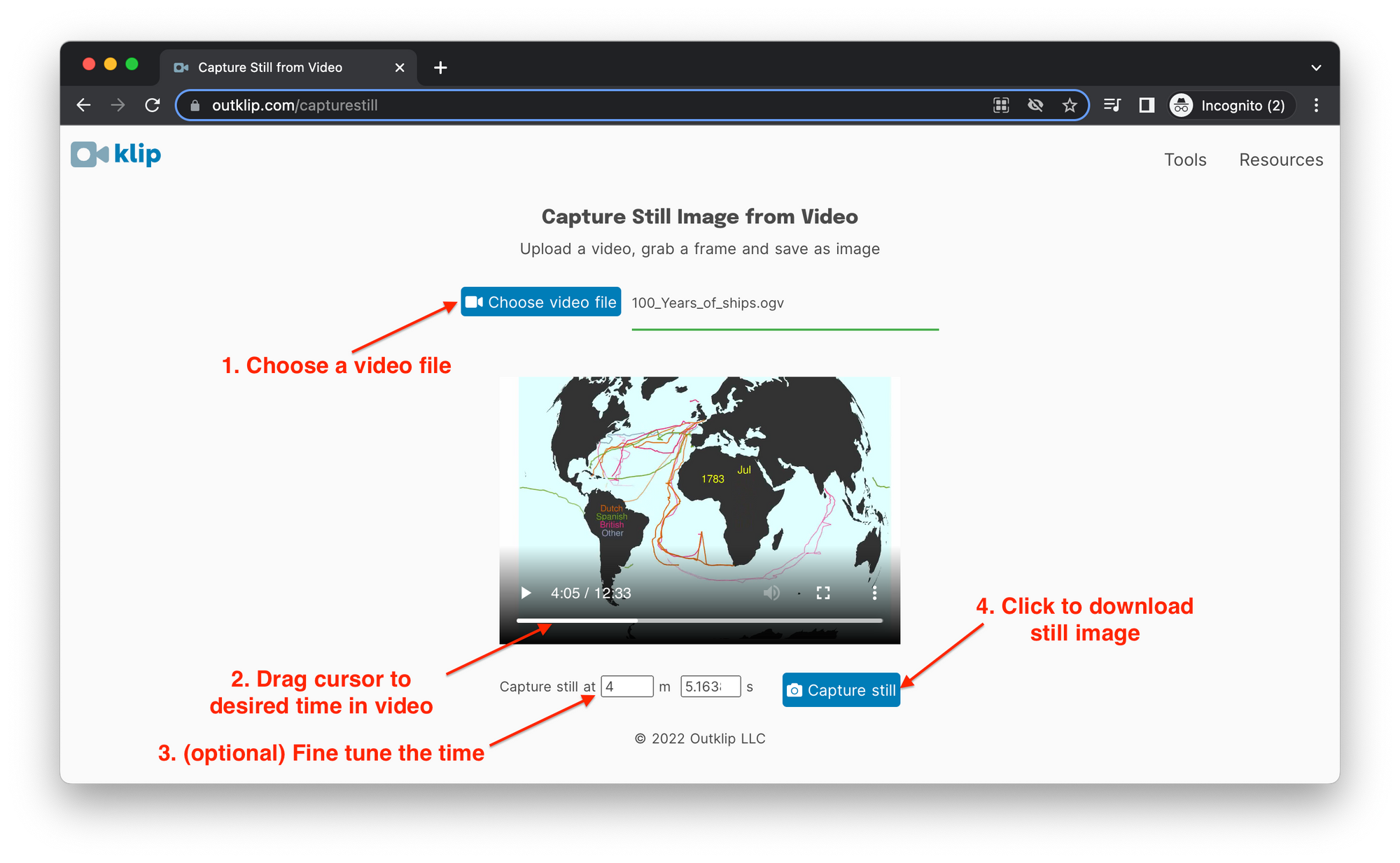 To use the tool, open https://outklip.com/capturestill in your browser.
Steps to capture a still:
Click button to choose a video file. You can select either an mp4, webm or ogg video file.
After the video loads in the video player, drag the cursor to the time in the video corresponding to the still image to capture.
Optionally, fine tune the time in the video, using the numerical time input
Click the Capture still button to save the image to your computer
In conclusion
To grab a still from a video people normally resort to screenshotting. But, screenshotting produces low quality results. For the optimal still image, use a tool specifically for capturing still images, like the Capture Still tool provided by Klip.
Email Sunil at sunil@outklip.com